| | |
| --- | --- |
| Price: | $20.00 |
| Availability: | in stock |
| Prod. Code: | Remote Control Omni Opal |
Omni Opal: remote control with voice search
Those who use a smart TV or a set-top box know how difficult it is to input text using a remote control: people have to waste their time slowly moving the cursor over each key on the on-screen keyboard with the Right/Left and Up/Down buttons. It takes a lot of time even for experienced users. Fortunately, you do not have to do that anymore! Thanks to the Omni Opal remote control, you can control your television set and Android TV box with voice commands.
Compatible with the MAG425A Set-Top Box
Feel free to use the Omni Opal remote control with the Android TV set-top box made by Infomir. It just takes a couple of minutes to pair the remote with a MAG425A! Simply follow the instructions in the user manual.
As soon as the pairing procedure is finished, you will be able to use high-quality voice recognition whenever you need to input text. To use voice search, press the dedicated button on the remote that activates the microphone. The system will start searching for the requested information in all applications. You will be able to save a lot of precious time with this Omni Opal!
Reliable and strong
Omni Opal is made of highly durable ABS plastic, which makes it perfectly suitable for kids and seniors. You will have to try very hard in order to break it! It can easily withstand falls even from great heights. So you don't have to worry about someone accidentally dropping and breaking it.
Impeccable voice control
The high-quality Omni Opal control for TV boxes has an excellent built-in microphone, which offers very accurate voice recognition. You won't have to yell or repeat words to find what you need.
HOW TO OPERATE THE MAG425A REMOTE CONTROL
The Omni Opal remote runs on two ААА batteries.
Do not use different types of batteries or old and new batteries together.
Do not use rechargeable batteries and do not try to recharge used batteries.
Remove the batteries from the remote if you do not use it for several weeks: it will prevent battery leakage.
Follow these guidelines and your remote will last for a long time.
An energy-saving mode
The MAG425A remote control has an energy-saving mode: this makes the battery life longer. If you keep the device on without using it for a long time, it goes into sleep mode. If you press a button, the remote will leave sleep mode. If you press the button a second time, it will enable you to continue using the media player.
REMOTE CONTROL FIRMWARE UPDATE
The OTA remote control update is a system service that starts when the set-top box is turned on and checks for updates every twelve hours. When updates become available, a notification is sent to subscribers.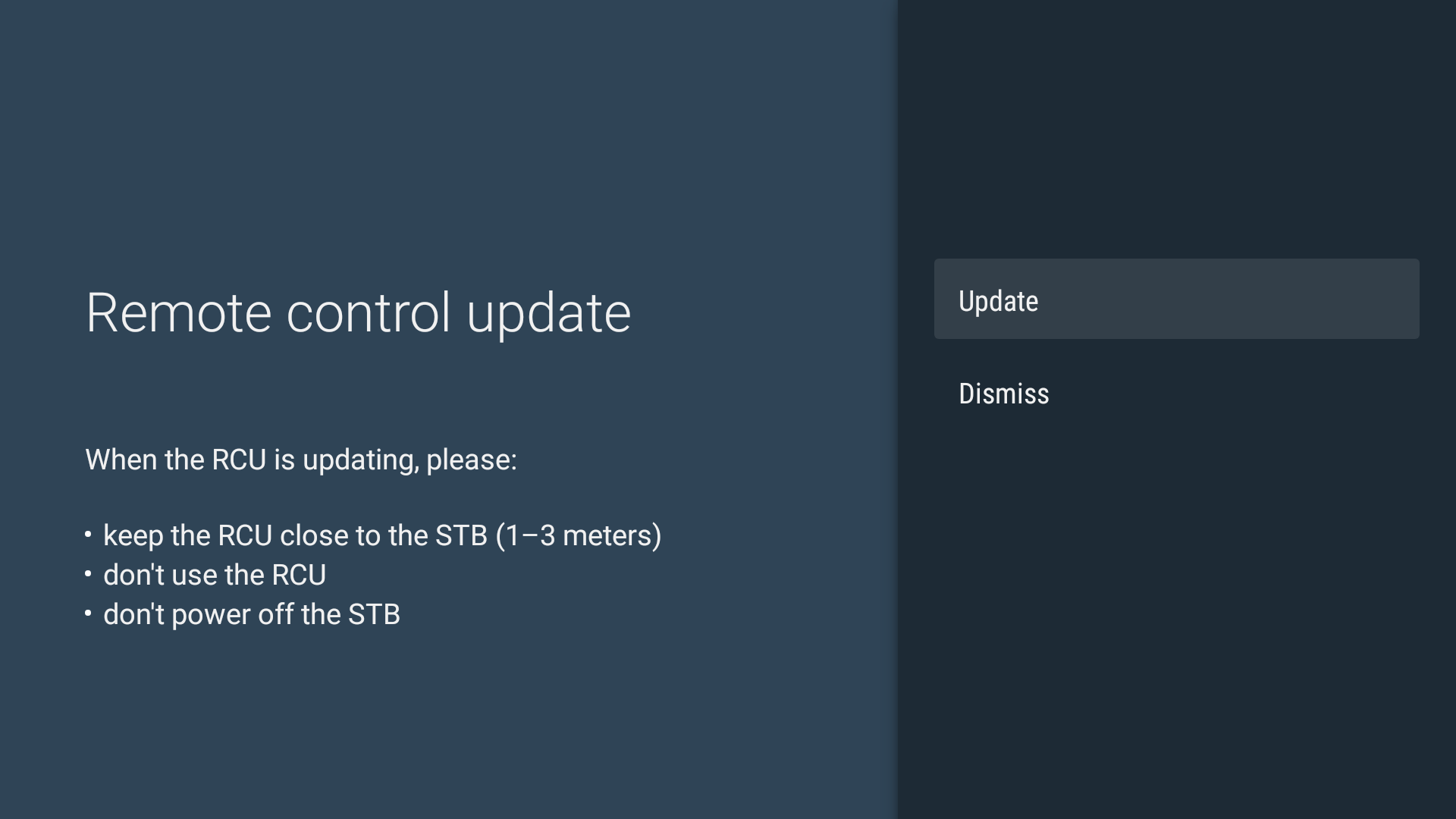 You can force the remote to update when the set-top box is loading: press any button several times when you see the animated Google screensaver. The system will detect the remote and send a request to the update server.
PHYSICAL SPECIFICATIONS
| | |
| --- | --- |
| Length/Width/Thickness, (mm) | 148x42,3x17,3 |
| Weight, g | 39.5 |
| Case material | ABS plastic |
ELECTRONIC SPECIFICATION
Protocol
BLE4.2
Operation Voltage DC
2.2V~3.2V
Transmission Medium
2.4GHz (BLE)
Carrier Frequency (RF)
2.4GHz~2.48GHz
Standby current
15uA max
Operating current
10mA @ 7 dBm (RF Mode) max
30mA (voice Mode) max
Distance and angle
More than 6 meters for voice, more than 10 meters for other keys (line of sight, an open area without interference)
MECHANICAL SPECIFICATION
Key Operating force
2.0±0.5N for normal keys,
2.2±0.5N for toggle keys,
3.5±0.5N for cursor keys
Key Operating life
300,000 presses,
maximum 5N
Drop Test Height
1 m
VISUAL SPECIFICATION
| | |
| --- | --- |
| Number of keys | 15 keys |
| Battery type | 2x AAA (not included) |
| Visual LEDs | 1x Red LED Indicator |
| Input Devices | Microphone |
| Output Devices | BLE |
ENVIRONMENTAL SPECIFICATION
| | |
| --- | --- |
| Operation temperature | 0°C~50°C |
| Storage temperature | -25°C~70°C |
| Humidity | 5% to 85% |
STANDARDS
| | |
| --- | --- |
| Approbation tested (EMC & FCC) | CE, TR RTTE and BT Qualification Test |
| Compliance | WEEE, RoHS, REACH |