| | |
| --- | --- |
| Price: | $14.00 |
| Availability: | in stock |
| Prod. Code: | Remote Control Mini Fusion |
The Mini Fusion programmable remote control: a convenient remote for MAG boxes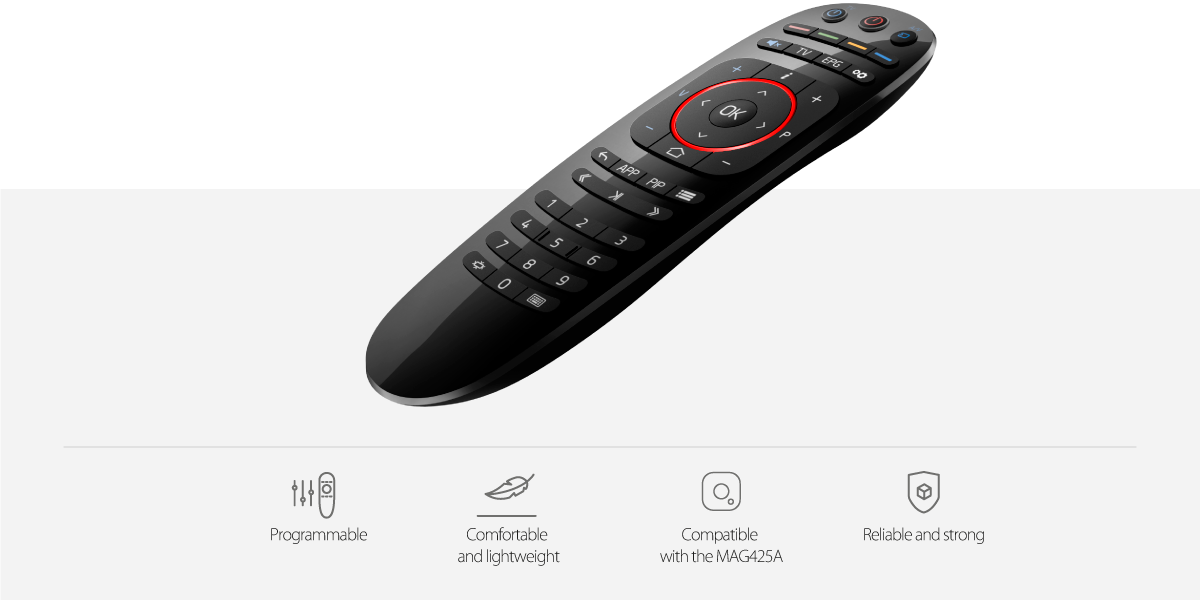 If you have a MAG set-top box, you must already know how versatile and convenient it is. However, what if we told you that you could make it even better? With this small and lightweight remote control, you can manage both your IPTV box and TV set at once. Suitable for all STBs manufactured by Infomir, the Mini Fusion remote control is a great purchase for any TV user who has a MAG box.
Comfortable and lightweight
The Mini Fusion remote control is light as a feather and shaped to fit your hand perfectly. Made of high-quality ABS plastic, it weighs less than 75 grams.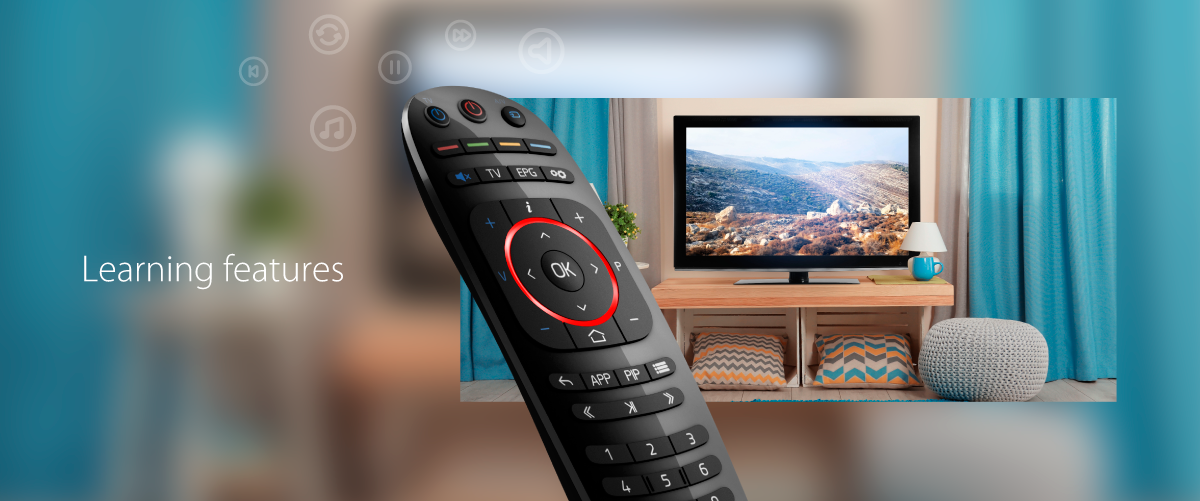 Teach your remote control
The Mini Fusion programmable remote control offers learning features. Meaning, you can have it receive and save signals transmitted by other remotes. The Mini Fusion remote control is amazingly convenient if you use a lot of devices that can be controlled from a distance.
Fully compatible with MAG Set-Top boxes
You can use this remote control with all IPTV boxes produced by Infomir. Additionally, the learning capabilities of this product allow you to use it with pretty much any TV that has an IR remote control.
Long-distance remote control
Among the other benefits of this RCU is its excellent operating range. It works perfectly even from 10 meters away, despite only needing two AAA batteries. Speaking of which, the battery will last about 1 year! Given the very high build quality of this product, you are getting a lot for your money by purchasing this remote control. You will be using it for many years!
Easy to use
Included with the remote is a detailed user manual for beginners. You will not have a single problem programming this device!
Mini Fusion has large and convenient buttons. Thanks to the intuitive design, this remote control is suitable for children and seniors alike.
PHYSICAL SPECIFICATIONS
| | |
| --- | --- |
| Length/Width/Thickness, (mm) | 175×53,3×25,9 |
| Weight, g | 72 |
| Case material | ABS plastic |
ELECTRONIC SPECIFICATION
Protocol
RC5
Operation Voltage DC
2.2V~3.2V
Power consumption
≤35mA
Transmission Medium
IR 38 kHz
Standby current
30uA max
Operating current
30 mA max
Distance and angle
Min 10m at straight line
Min 3m at degree conical
MECHANICAL SPECIFICATION
Key Operating force
180±20 gf
Key Operating life
300,000 presses,
maximum 5N
Return force
> 50 grams
Battery lid Opening Life
Open and close the battery lid 100 times.
Drop Test Height
> 1 m
VISUAL SPECIFICATION
Number of keys
41 keys
Battery type
2x AAA (not included)
Battery Life
(normal usage):
1 year
Visual LEDs
1xRed LED Indicator
1xGreen LED Indicator
(beneath the Power keys)
ENVIRONMENTAL SPECIFICATION
| | |
| --- | --- |
| Operation temperature | 0°C~45°C |
| Storage temperature | -25°C~70°C |