| | |
| --- | --- |
| Price: | $90.00 |
| Availability: | in stock |
| Prod. Code: | MAG500A |
Units will be shipped with regionally adapted power supplies.
No subscriptions, TV channels or any other video/audio content will be provided with purchasing of the unit.
Not for resale.
MAG500A: Android TV set-top box with 4K support and voice control
Meet the MAG500A Android TV device, powered by a high-performance Amlogic S905X2 chipset that makes this set-top box 25% more efficient than the previous generation MAG media players. Android TV services ensure comfort and the best user experience, as you can control MAG500A with your voice.
4K HDR content playback
MAG500A supports HEVC technology, i.e., a codec that decodes 4K HDR videos twice as fast as H.264. This feature reduces the network load and ensures that users can watch high-definition videos even at slow Internet speeds.
Google Assistant
The voice control feature makes the user experience easier and faster. To enjoy voice control, you just need to press a special button on the remote control and say a command, e.g., to launch apps, control viewing, find content, and search for information.
More than 7,000 apps
Google Play Store comes pre-installed on MAG500A. From there, users can download more than 7,000 games and apps adapted for the big screen. Also, YouTube, MAGic Player, MAGic Files Explorer, MAGic Audio Audio Player, and Ministra Player are available as standard.
Network connectivity
Thanks to a built-in Wi-Fi module and Ethernet port, MAG500A can operate using any network. Ethernet connectivity ensures a stable connection at speeds up to 100 Mbps. With a wireless connection, the data transfer rate can be up to 540 Mbps.
Qubic design
The device comes with a new Qubic case made of black matte plastic. The small footprint and modern ergonomic design help the set-top box blend organically with any interior.
Dimensions
| | |
| --- | --- |
| Width/depth/height, (mm) | 120x78x21 |
| Weight, g | 110 |
Hardware
| | |
| --- | --- |
| Chipset | Amlogic S905X2 |
| Processor | Quad-core‌ ‌ARM‌ ‌Cortex-A53, 1,900 MHz |
| Performance | 18, 400 DMIPS |
| RAM | 2 GB DDR3 |
| Flash memory | 16 GB eMMC |
Software
| | |
| --- | --- |
| Operating system | Android 9.0 |
| Middleware supported | Pre-integrated Ministra TV platform. Image enhancement with operator apps, customization, or full replacement is available |
Interfaces
| | |
| --- | --- |
| | HDMI 2.1, Ethernet 100 Mbps, 1 × USB 2.0, 1 × USB 3.0, Bluetooth 5.0, built-in 2T2R ac Wi-Fi module |
Sources of media content
| | |
| --- | --- |
| | PC or NAS, multimedia broadcasts (RTSP, RTP, UDP, IGMP, HTTP), USB devices |
Audio & video
| | |
| --- | --- |
| Audio сodecs | MP3, AAC, RM, FLAC, Ogg and programmable with 7.1/5.1 down-mix, Dolby Digital Plus™ |
| Video modes | 4Kx2K, 1080i/p, 720p, 576i/p, 480i/p |
| Video codecs | H.265/HEVC Main/Main10 profile, AVC/H.264 (MPEG-4 Part 10), MPEG-4, MPEG-2, MPEG-1 |
| Video containers | TS, MTS, AVI, MPEG, MP4, MOV, MKV, M2TS, VOB, RM |
| Image formats | JPEG, PNG, BMP, GIF |
| Subtitles | SRT, SSA/ASS, TTXT, WEBVTT |
| Playlist formats | M3U, M3U8, PLS |
Standard set
| | |
| --- | --- |
| | One MAG500A set-top box, a user manual, an HDMI cable, a 5V 2A power adapter, a remote control, two AAA batteries, packaging |
What you need to know about Android TV
How to choose an Android TV STB?
Android TV devices are required to pass Google certification: the software developing company sets serious requirements for devices compatible with the system. If a device passes all the tests successfully, the developer's logo appears on the official Android TV website.
Before buying an Android TV media player, make sure the manufacturer is in the list of Google partners and the device is in the list of the certified Android TV devices.
What is the difference between Android AOSP and Android TV?
Google developed Android TV in 2014 based on Android AOSP. There is a range of significant differences between these two operating systems.
Google key services, such as Google Play, Google Assistant, YouTube, etc. are embedded in the certified Android TV devices. An owner of such a device does not have to install or set up the apps: you can use the device right out of the box.
Quality assurance: the Android TV-powered equipment is required to pass Google tests. The company checks the functionality and reliability of the device.
An Android TV user is guaranteed to get updates from the manufacturer for 3 to 4 years.
Android TV apps in the official Google Play Store are optimized for viewing content on a TV screen.
Android TV is a system with closed source code: operators cannot change interface or device functionality at sole discretion. Android AOSP may be installed by any operators to their devices: Google does not check the devices with this OS, making manufacturers solely responsible for their operation.
Can I use Android TV without a Google account?
You don't need a Google or Gmail account to use an Android TV device. But if you do have an account, you can log in to your account and get personalized video, film and TV show recommendations.
How to watch IPTV?
Reputable providers offer only safe and legal content to their subscribers. Operators develop apps for safe content viewing themselves: you can download them in the Google Play store. Official operators' apps guarantee that you will get only high-quality, legal content.
Do I have to connect to an IPTV/OTT operator?
You can use an Android TV STB without an IPTV/OTT network. In this case, you will have access to external streaming services, games, YouTube and videos from subscriptions.
What languages does Google Assistant understand?
The official Google Assistant version for Android TV recognizes 12 languages: English, French, German, Hindi, Indonesian, Italian, Japanese, Korean, Portuguese, Swedish, Vietnamese and Spanish.
Is it a good value for money?
Android TV STBs have all smart TV features. You get access to Internet browsers, your YouTube account, apps, games and other services. So, upgrading your old TV with an Android TV STB will cost 3–4 times less than buying a new smart TV. With the STB, you can turn any TV into a smart TV and save a lot of money.
MAG500A is Infomir's flagship set-top box. Its quality is confirmed by Google experts. After purchasing it, you are guaranteed to get updates for 3 to 4 years. Give yourself and your loved ones the opportunity to enjoy high-quality 4K video content!
Is the STB powerful enough to play any video? Will the device hardware manage it?
MAG500A's powerful components let you play different content without any problem. The device operation is ensured by a powerful quad-core 1,200 MHz ARM Cortex-A53 processor, Hi3798MV200 chipset and 2 GB RAM. The STB has 8 GB of internal storage, which can be extended by external media: flash drives and MicroSD of up to 128 GB.
The MAG500A is a universal STB: its functionality will satisfy both beginners, experienced users and fans of undemanding 3D games. The device can easily play 4K content and supports popular innovative Google services. The media player can be connected to the Internet both via Wi-Fi and Ethernet cable. Thus, the user can pick whatever connection method is easiest for them: cable connection will ensure a guaranteed continuous signal and Wi-Fi will relieve you from all the cables.
Why is it important to keep the device firmware up to date?
Infomir specialists are constantly working to improve the MAG500A firmware. Check regularly for new updates: they fix bugs and improve the operation of the device. The media player detects updates automatically: a notification appears on the main screen during the download:
You can check updates yourself, by:
1. Go to 'Settings'.
2. Select 'System Update'.
3. Click 'OK' if you see a notification that says the device has the latest software version.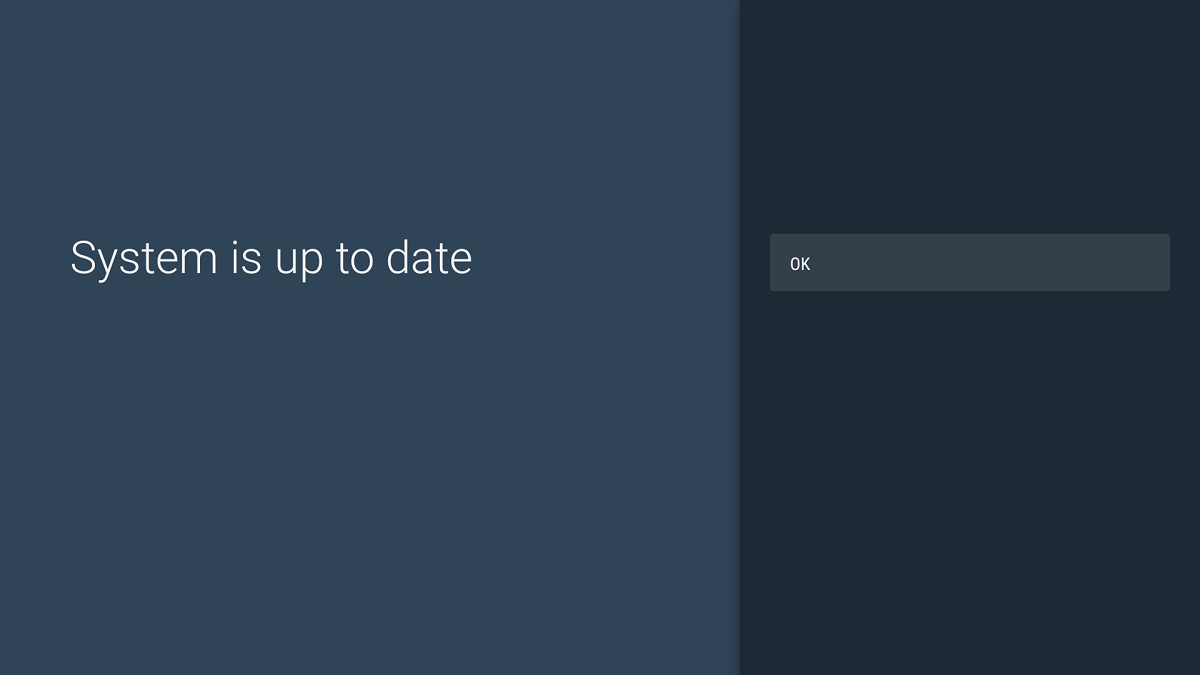 4. Click 'Update' if a new software version is available.
How to operate the MAG500A remote control
The MAG500A remote control has an energy-saving mode: this makes the battery life longer. If you keep the device on without watching it for a long time, it goes into sleep mode. If you press a button, the remote will leave sleep mode. If you press the button a second time, the device will enable you to continue using the media player.
Remote control firmware update
The OTA remote control update is a system service that starts when the set-top box is turned on and checks for updates every twelve hours. When updates become available, a notification is sent to subscribers.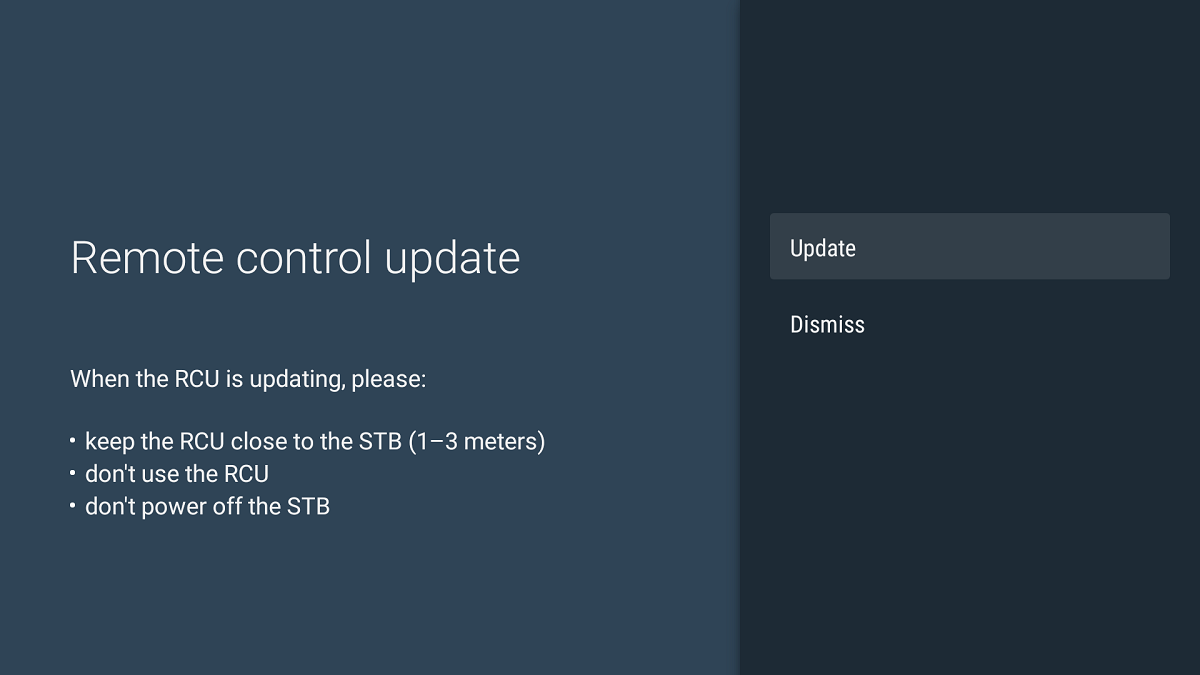 You can force the remote to update when the set-top box is loading: press any button several times when you see the animated Google screensaver. The system will detect the remote and send a request to the update server.