IPTV Set-Top-Boxes > MAG254

MAG254



| | |
| --- | --- |
| Price: | $63.75 |
| Availability: | This product is back-ordered; it is unavailable for ordering at this time please come back or continue shopping. |
| Prod. Code: | 254 |
Units will be shipped with regionally adapted power supplies.
No subscriptions, TV channels or any other video/audio content will be provided with purchasing of the unit.
Not for resale.
MAG 254/255 is a powerful Set-Top Box with efficient processor STiH207 and increased RAM memory, and it is an optimal solution for IPTV/OTT projects. The Set-Top Box is designed to fulfill business projects of internet providers, OTT operators and content aggregators. The increased productivity of MAG 254/255 enables to use resource-intensive interactive applications and support 3D-video.
STiH207 650Mhz, Linux 2.6.23, Composite AV, HDMI 1.4, USB x 2, S/PDIF, LAN, WiFi Ready ( has to be ordered separately).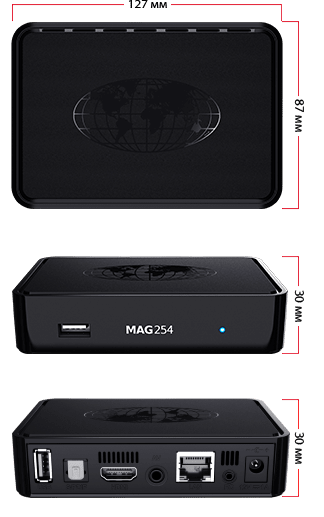 Specifications
Dimensions
| | |
| --- | --- |
| Width/depth/height, (mm): | 127/87/30 |
| Weight, g: | 190 |
Hardware
| | |
| --- | --- |
| Processor: | STiH207 |
| RAM: | 512 Mb |
| Flash memory: | 256 Mb |
Software
| | |
| --- | --- |
| Operating system: | Linux 2.6.23 |
| | Built-in Media Portal with WebKit-based IPTV-functionality HTTP 1.1, HTML 4.01 XHTML 1.0/1.1; DOM 1, 2, 3, CSS 1, 2, 3; XML 1.0, XSLT 1.0, XPath 1.0 ; SOAP 1.1; JavaScript ECMA-262, revision 5; Media JavaScript API; C layer SDK |
| DRM option: | Secure Media, Verimatrix (MAG255) |
| Middleware supported: | Stalker, Netup, SmartLabs, Netris, Beenius |
Interfaces
| | |
| --- | --- |
| | Audio output S/PDIF HDMI 1.4-output Composite + stereo A/V output Ethernet 100 Mb/s USB 2.0 (WiFi-adapter can be connected) |
Sources of media content
| | |
| --- | --- |
| | PC and NAS in local network Stream media protocols (RTSP, RTP, UDP, IGMP, HTTP) USB-devices |
Audio&Video
| | |
| --- | --- |
| Audio codecs: | MPEG-1 layer I/II, MPEG-2 layer II, MPEG-2 layer III (mp3), MPEG-2 AAC (optional), MPEG-4 AAC LC 2-ch/5.1ch (optional), MPEG-4 AAC+SBR 2-h/5.1ch (optional), Dolby Digital (optional), DTS (optional) |
| Audio formats: | MP3, MPA, M4A, WMA (optional), Ogg, WAV, AAC |
| Video modes: | 1080i, 1080p, 720p, 576p, 480?, PAL, NTSC |
| Video codecs: | MPEG1/2 MP@HL, H.264 HP@level 4.1, MPEG4 part 2 (ASP), WMV-9 (optional), VC1 video, XviD; 3D and HD video supporting (up to 40 Mbit / s and above) |
| Video containers: | MKV, MPEG-TS, MPEG-PS, M2TS, VOB, AVI, MOV, MP4, ASF, QT, WMV |
| Image formats: | JPEG, PNG, BMP, GIF, RAW |
| Subtitles: | DVB, SRT, text MKV |
| Playlist formats: | M3U |
Standard set
| | |
| --- | --- |
| | MAG254 Set-Top Box, user manual, HDMI cabl , Power adapter 12V 1A, remote control, 2 AAA batteries, cardboard packaging. |