IPTV Set-Top-Boxes > MAG420w1

MAG420w1



| | |
| --- | --- |
| Price: | $65.10 |
| Availability: | This product is back-ordered; it is unavailable for ordering at this time please come back or continue shopping. |
| Prod. Code: | MAG420w1 |
Units will be shipped with regionally adapted power supplies.
No subscriptions, TV channels or any other video/audio content will be provided with purchasing of the unit.
Not for resale.
4K MAG BOX WITH WI-FI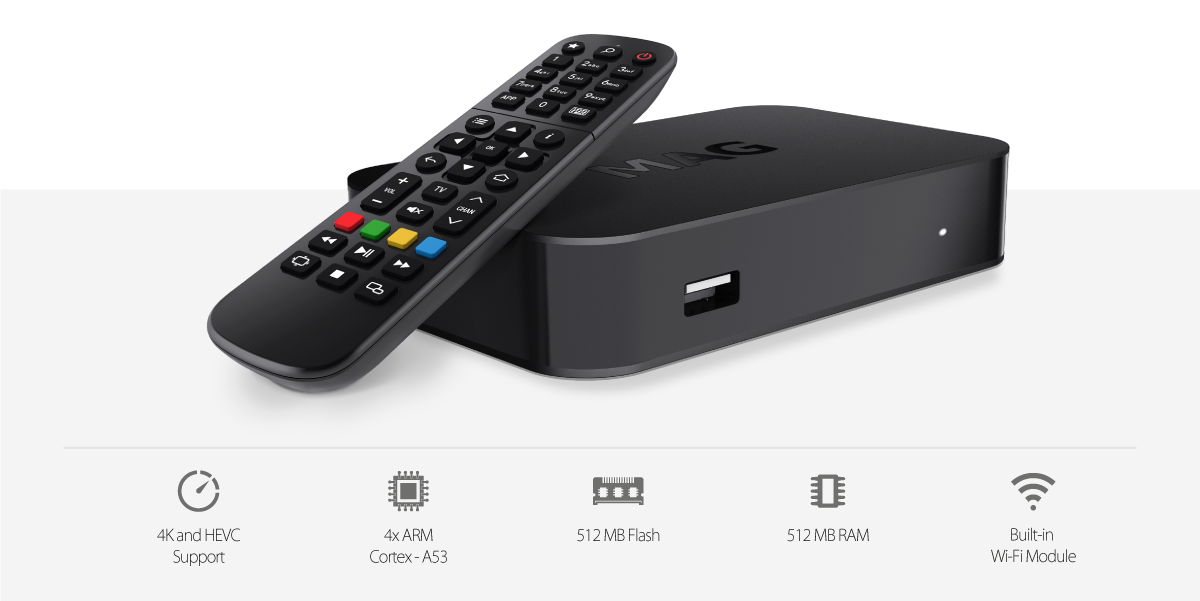 Impeccable video quality is now affordable to everyone! Watch Ultra HD content at 60 FPS without any restrictions with the 4K STB MAG420w1. With this affordable device, you will be able to enjoy your favorite TV shows, movies, and IPTV channels at the highest quality possible. Get it right now and forget about compression artifacts, pixelated videos, distorted sounds, and other issues!
MAKE YOUR OUTDATED TV PLAY THE LATEST FORMATS
Thanks to this IPTV Set-Top Box, you will not have to worry about file formats anymore, which means, as long as your TV supports it, you will be able to play it, and that includes 4K video. The MAG420w1 Wi-Fi TV Set-Top Box supports the majority of media file formats. Just plug it in with an HDMI or RCA cable and watch the best quality content on your TV set!
EASY TO INSTALL AND USE RIGHT OUT OF THE STB
Even if you have never used a Set-Top Box before, you won't have any difficulty with MAG420w1. Besides the device itself, the set includes everything you need. The standard set contains a high-quality HDMI cable, a remote with AAA batteries, a power adapter, and a user manual. The whole installation process will take you less than 10 minutes.
ULTRA HD VIDEO WITHOUT FREEZING OR BUFFERING ISSUES
This Set-Top Box supports the HEVC codec which minimizes the number of compression artifacts. It only needs half of the bitrate its predecessor, the H.264 takes. Enjoy seamless picture quality at a framerate of 60 FPS!
IMPECCABLE IMAGE QUALITY WITH SUPERIOR COLORS
The wireless IPTV Set-Top Box MAG420w1 is powered with a high-end quad-core processor, which provides the smoothest video quality without the slightest delay. Enjoy the best possible video quality on your TV!
A HIGH-SPEED WIRELESS CONNECTION
Since the STB comes with a built-in 802.11 b/g/n standard Wi-Fi module, there is no need for any cables. Just connect it to your home network via Wi-Fi! There is no need to buy an extra Wi-Fi adapter. The device supports the latest standards that ensure high-speed and stable data transmission.
Dimensions
| | |
| --- | --- |
| Width/depth/height, (mm) | 132х87х26 |
| Weight, g | 128 |
Hardware
| | |
| --- | --- |
| Chipset | Hi3798MV200 |
| Processor | ARM Cortex-A53 Quad Core CPU 1200 MHz |
| Performance | 15 000 DMIPS |
| RAM | 512 MB |
| Flash memory | 512 MB NAND |
Software
| | |
| --- | --- |
| Operating system | Linux 4.4.35 |
| Middleware supported | Ministra TV platform version 5.4.1 or higher |
Interfaces
| | |
| --- | --- |
| | RCA 3.5 mm, HDMI 2.0, Ethernet 100 Mbps, USB 2.0х1, USB 3.0x1, Wi-Fi 1T1R n |
Sources of media content
| | |
| --- | --- |
| | PC and NAS in a local network, Stream media protocols (RTSP, RTP, UDP, HTTP), USB devices |
Audio & video
| | |
| --- | --- |
| Audio сodecs | MPEG L1/L2/L3, Dolby Digital, AAC-LC, HE AAC V1/V2, APE, FLAC |
| Audio formats | AC3, ACC, APE, FLAC, M4A, MP3, OGG, WAV |
| Video modes | PAL, NTSC, 576p, 720p, 1080p, 1080i, 2160p |
| Video сodecs | MPEG1/2 MP@HL, MPEG4 part 2 (ASP),H.265 Main/Main 10@L5.1 High 2160p@60 fps (optional), H.264 AVC High@L5.1 2160p@30 fps, XviD, 3D video support |
| Video containers | TS, AVI, MPEG, MP4, MOV, MKV, M2TS, VOB |
| Image formats | JPEG, PNG, BMP, RAW |
| Subtitles | DVB, PGS, SRT, SSA/ASS, SUB, Teletext subs, WebVtt, Closed captions |
| Playlist formats | M3U, M3U8, PLS, CUE |
Standard set
| | |
| --- | --- |
| | MAG420w1 Set-Top Box, User Manual, HDMI cable, Power adapter 12V 1A, Remote control, 2 AAA batteries, Packaging |